Education
The continued need to build a qualified workforce with the latest technology in school programs is very important to FlashCut CNC. These programs prepare students for technology and manufacturing careers which in turn will lead to a strong economy and a brighter future for everyone. Our controls, retrofits and machines can be found in over a hundred major universities and schools world-wide including MIT, Stanford, Illinois,Michigan, Ohio State and Hong Kong. We are also an integral part of high schools, tech centers and tech museums. These institutions chose FlashCut CNC for its:
Ease of use
Windows compatibility
Plug and play installation
Rock-solid robustness
Industry-leading customer support
Educational discounts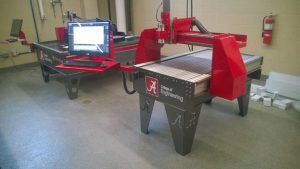 To learn how FlashCut CNC can streamline your technology and engineering program, please contact us at (888) 883-5274 or email sales@flashcutcnc.com.
Community
FlashCut CNC is at the heart of a community of engineers, machinists, business leaders, and educators worldwide. We are also a strong supporter of our local high school by offering our annual "FlashCut CNC Future Engineer Scholarship" along with supporting charitable organizations through our annual awareness and fund raising events. Every year we choose a non profit organization for our annual "Bike to Work Day" event. Contact us today to see how you can get involved.