CNC Controls
CNC Servo Control System & Software
The FlashCut CNC Pro-Series and Titanium Servo Control Systems, featuring FlashCut CNC Software and integrated USB Signal Generator, drive any machine tool with power, smoothness and precision.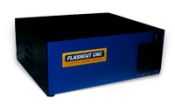 State-of-the-art CNC servo controllers: for powerful, accurate and quick coordinated motion
The Pro-Series Servos feature State-of-the-art, closed-loop digital PID control providing accurate positioning even under the most strenuous conditions. The Titanium Series Controllers have the same power as the Pro-Series servos with an integrated 19.5" touch screen PC interface along with optional instrumentation such as E-stop, feed-hold, feedrate override, program start and joystick jogging all in a mountable NEMA industrial enclosure.
Premium CNC servo motors & controllers:
Product
25 Amp Pro-Series Servo CNC Controller
25 Amp Pro-Series Servo CNC Sub Panel
Titanium Servo CNC Console
Platinum Servo CNC Sub-Panel
Photo
Continuous Current [A]
12.5
12.5
12.5
6
Peak Current [A]
25
25
25
18
Bus Voltage [VDC]
80
800
80
280-680
Input Voltage [VAC]
110 or 220
110 or 220
110 or 220
200-480 3-phase
General Purpose Digital Output Lines
8 Digital (Expandable to 32 Digital, 2 Analog, 2 PWM)
8 Digital (Expandable to 32 Digital, 2 Analog, 2 PWM)
8 Digital (Expandable to 32 Digital, 2 Analog, 2 PWM)
8 Digital (Expandable to 32 Digital, 2 Analog, 2 PWM)
General Purpose Digital In Lines
8 Digital (Expandable to 32 Digital, 2 Analog)
8 Digital (Expandable to 32 Digital, 2 Analog)
8 Digital (Expandable to 32 Digital, 2 Analog)
8 Digital (Expandable to 32 Digital, 2 Analog)
Weight [lbs] (kg)
16 (7.3)
21.2 (9.6)
85 (38.5)
45 (20.5)
L x W x H [in] (mm)
12.7 x 14.1 x 5.7
(315 x 357 x 145)
13.375 x 15.5 x 5.4 (7.4 including cable height)
(340 x 392.6 x 137 (188 including cable height))
18 x 21.8 x 25.1
(457 x 554 x 638)
23.25 x 23.25 x 11.5
(590 x 590 x 292)
Manual

View

View

View

View

Details

More

More

More

More