Laser
Overview
Powerful CNC Laser Controller & Integrated CAD/CAM Software
Cut with ultimate precision and speed with our CNC laser controller. FlashCut's integrated CAD/CAM Nesting software makes tight nests with automatically placed lead-ins. Our Laser CNC Controller will cut these nested parts with extremely high speed, acceleration and accuracy. Other advanced features such as capacitive height sensing, auto-focus of the laser beam and automatically adjusted laser power levels during acceleration and deceleration based on the feed rate produce parts with ultimate precision.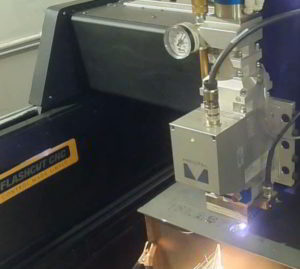 Features: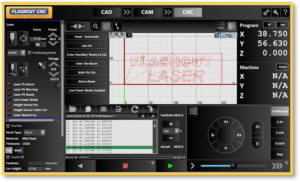 Seamless integration with leading laser manufacturers such as Precitec, SPI, IPG and NLight.
Microsecond laser control combines machine motion with laser cutting, achieving the highest precision possible.
Visible red-light beam mode, which serves as a visual guide for positioning on the workpiece.
Dynamic change of laser power with feed-rate to maintain a consistent kerf on corners during acceleration or deceleration.
Easy adjustment of laser power in relation to the feed-rate.
Accurate adjustment of focal lens position to maximize cut quality for a given gas mixture and material thickness.
General-sensing monitors input line for precision touch-off.
Suppression radius to minimize the number of touch-offs, to maximize throughput while maintaining accuracy.
Programmable alarms for different states and conditions of the laser cutting machine. LED Colors and descriptions can be edited.
Monitoring of discrete inputs from the laser head and power supply for status and errors. Alarms for collision sensing, height sensing states and errors, head positioning, and power supply status.
Capacitive height sensing to maintain a precise height while cutting.
Height sensor calibration routine to keep your cutting system in tune.
Pre-collision offset to protect your cutting head.
Two different power levels for cutting and marking.
Focal position adjustment of the laser head.
Focusing lens calibration of the laser head.
Adjustable height settings for safe height, pierce height, cut height, and pierce delay.
What is CNC Laser Cutting?
Laser cutters use a high-energy focused laser beam to cut materials with high speed and extreme accuracy. Cutting with lasers is more exact than plasma cutting and uses less energy when cutting aluminum and steel.
There are two main types of laser cutting – CO2 and Fiber Laser. The high speed and extreme accuracy of laser cutting demand high performance CNC Controllers like those offered by FlashCut CNC.
Advantages of laser cutting:
Fast cutting speed – up to 4000 in/min in light gauge material.
It allows for cutting of precise and complex shapes at faster speeds without the need for tooling.
It has minimal kerf, which can cut very fine details.
It cuts both metals and nonmetals.
FlashCut also provides CNC solutions for other 2D cutting technologies such as CNC plasma cutting, CNC oxy fuel cutting, and CNC water jet cutting.
Controls
Powerful CNC Controls Tailored for Laser Cutting
FlashCut CNC offers many options to run your laser cutting machine with state-of-the-art controls, motors, and cables. Our powerful and precise motion control, along with dynamic laser power, will give you accurate, smooth parts with the sharpest of detail. We offer a wide range of closed-loop servo solutions to drive your machine with precision, power, and ease.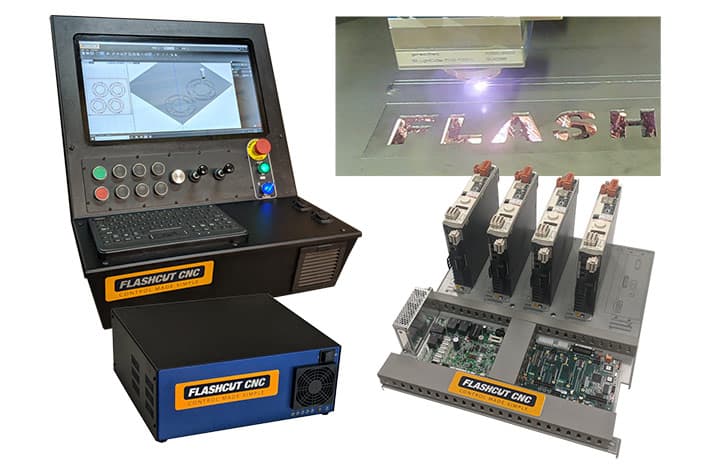 Software
Integrated Laser CAD/CAM/CNC Software
FlashCut's Laser CNC software CNC software makes going from design to production more efficient than ever. Our product integrates CAD, CAM, and CNC software and controls all in one platform. Our intuitive CAM software converts the design into a tool path with intelligently placed lead-ins and automatic nesting. Flashcut's CNC controls and software perfectly integrate the power of the laser with precision motion control.FlashCut CNC also offers many a-la-carte features, such as collision avoidance, nesting report and advanced file management for job scheduling in high production.