State-of-the-Art Stepper Controllers
FlashCut CNC's integrated microstepping stepper motor controllers are engineered to drive any sized machine with power and precision at an affordable price.
Advanced Microstepping CNC Controllers and Quality Stepper Motors: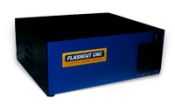 Whether you get our Compact, Pro or Titanium series, all of our CNC stepper controllers come as an integrated solution featuring our world-renowned CNC Control Software, USB Signal Generator, universal power supply, and CNC stepper boards with the latest in microstepping drive technology.
Our stepper motors are precision made using an advanced lamination manufacturing method – minimizing the gap between the rotor and magnet giving it more precision motion and up to 20% more torque than other motors of their size.
Premium CNC microstepping motors & controllers:

Product
Compact CNC Controller - 5A
8 Amp Pro-Series Microstepping CNC Controller
8 Amp Pro-Series Microstepping CNC Sub-Panel
Titanium Microstepping CNC Console
Photo
Phase Current Range [A]
0.5 - 5
1.0 - 8.0
1.0 - 8.0
1.0 - 8.0
Bus Voltage [VDC]
42
70
70
70
Step Resolution
Full,1/2, 1/4, 1/16, 1/32, 1/64, 1/128, 1/256
Full, 1/2, 1/10, 1/25, 1/64, 1/100, *Includes a smooth step option
Full, 1/2, 1/10, 1/25, 1/64, 1/100, *Includes a smooth step option
Full*, 1/2*, 1/10, 1/25, 1/64, 1/100 *Includes a smooth step option
Idle Current Reduction
50%
0.5
0.5
50%
Input Voltage
110 or 220
110 or 220
110 or 220
110 or 220
General Purpose Digital Output Lines
8 Digital (Expandable to 10 Digital, 1 Analog, 1 PWM)
8 Digital (Expandable to 32 Digital, 2 Analog, 2 PWM)
8 Digital (Expandable to 32 Digital, 2 Analog and 1 PWM)
8 Digital (Expandable to 32 Digital, 2 Analog, 2 PWM)
General Purpose Digital In Lines
8 Digital (Expandable 10 Digital, 1 Analog)
8 Digital (Expandable to 32 Digital, 2 Analog)
8 Digital (Expandable to 32 Digital, 2 Analog)
8 Digital (Expandable to 32 Digital, 2 Analog)
Weight [lbs] (kg)
1.95 (0.9)
14.4 (6.54)
14.4 (6.54)
75 (34)
L x W x H [in] (mm)
6 x 9.1 x 2.7
(150 x 231 x 69)
12.7 x 14.1 x 5.75
(315 x 357 x 146.1)
13.4 x 15.5 x 7.4
(339.5 x 392.6 x 188)
18 x 21.8 x 25.1
(457 x 554 x 638)
Manual

View

View

View

View

Details

More

More

More

More