CNC App & Retrofits
Overview
Controls
Accessories
Software
Retrofits
Gallery
CNC Oxy-Fuel Cutting with Smooth and Precise Motion Control
With FlashCut's CNC controls for oxy fuel, all gas and ignition controls are at your fingertips, from preheating to piercing to XY cutting.
Our software and CNC controls for oxy-fuel have embedded cut charts for all leading brands of oxyfuel torches such as Victor, Miller and Harris, taking the guesswork out of choosing kerfs and feed rates to make perfect cuts.
FlashCut's Controller Features for CNC Oxy-Fuel Cutting 
Precise control of all oxyfuel gas and ignition at your fingertips.
Two preheat levels, pierce, water usage, and purge delay.
Hold, set, and release the preheat buttons to allow the operator to set and repeat the preheat time.
Precision gas control to make sharp and accurate cuts.
Creep speed during the lead-in to minimize splattering.
Embedded Ability to cut charts for leading brands of oxy fuel torches leading brands, taking the guesswork out of kerfs and feed rates.
Real-time jogging to vary height control.
Ability to easily add control buttons to the screen.
What is CNC Oxy-Fuel Cutting?
CNC Oxy-Fuel cutting technology provides precise gas control to make sharp and accurate cuts in ferrous material.
It uses a combination of oxygen and fuel to cut mild steel and metals. A chemical (exothermic) reaction between the oxygen and carbon steel creates iron oxide, referred to as slag. The slag is blown out of the gap by the high pressure of the gases used.
The cutting speed, heat flame adjustment, height control, and material thickness are some factors that can influence the final quality, accuracy, finish and angle of the cut edge. Oxy-fuel cutting systems are used to cut ferrous metals and can cut very thick materials up to 24" (600mm) with a cutting angle very close to perpendicular. An oxy-fuel cutting table can easily be configured with multiple cutting heads making it a very high production CNC application.
Advantages of Oxy-Fuel Cutting
Highly accurate cutting system.
Ability to cut through material thickness up to 24".
Ability to have multiple cutting torches.
Close to perpendicular cuts.
Low operational costs when compared to other CNC cutting machines.
FlashCut also provides tailored controls for other 2D cutting technologies, including plasma systems, waterjet, laser, and other CNC solutions.
Powerful CNC Controls for Oxy fuel Cutting
FlashCut CNC has many options for adding state of the art controls, motors, and cables to your oxy-fuel cutting table. Our smooth and precise motion control, along with fingertip control of the pre-heat and cutting processes, will allow you to produce parts quickly and accurately. We offer complete micro stepper and closed-loop servo control systems to drive your oxy-fuel cutting machine with precision, power, and ease.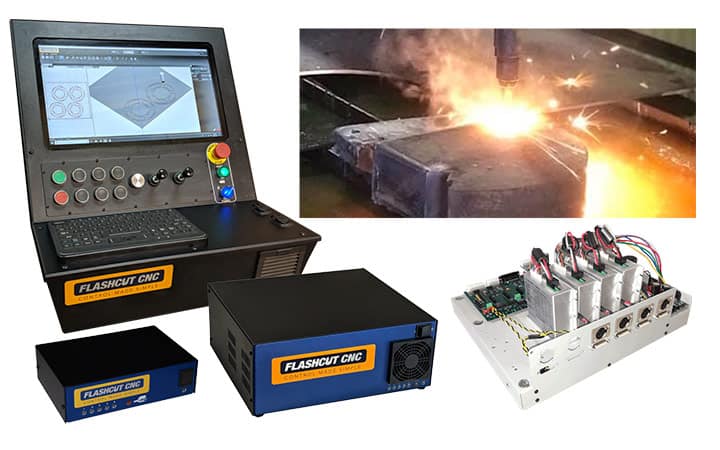 CAD/CAM and CNC Software for Oxy-Fuel
FlashCut CAD/CAM/CNC for Oxy-Fuel features full integration with our controller software. It also includes an intuitive interface and automatic kerf compensation based on integrated cut charts for many common oxy-fuel torches. Enhanced oxyfuel support puts all of the controls at your fingertips, including release and extend of preheat time, creep rate and real-time Z adjustments.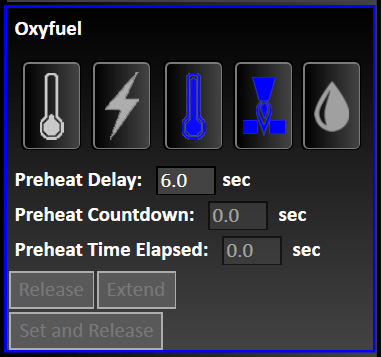 FlashCut CNC Oxy-Fuel Cutting Machine Retrofits
Breathe new life into your existing oxy-fuel cutting table with our simple and powerful retrofits. CNC retrofits can save you time and money with more productivity and less maintenance. If your machine is in good shape, purchasing a retrofit can be more economical than buying a new cutting table. Your machine can be up and running within a day with the newest and best integrated FlashCut CAD/CAM/CNC oxy fuel cutting systems.