CNC Controls: Signal Generator
Overview
USB Signal Generator
FlashCut CNC is the industry leader in powerful, easy-to-use, affordable CNC controls. Our CNC systems provide machine tool automation from any Windows™ PC. The USB-Powered Software and Signal Generator, capable of 100,000 digital pulses per second, forms the cornerstone of the FlashCut CNC product line. With a simple installation to a stand alone FlashCut or competitor driver box, it easily turns a Windows™-based PC into a CNC controller.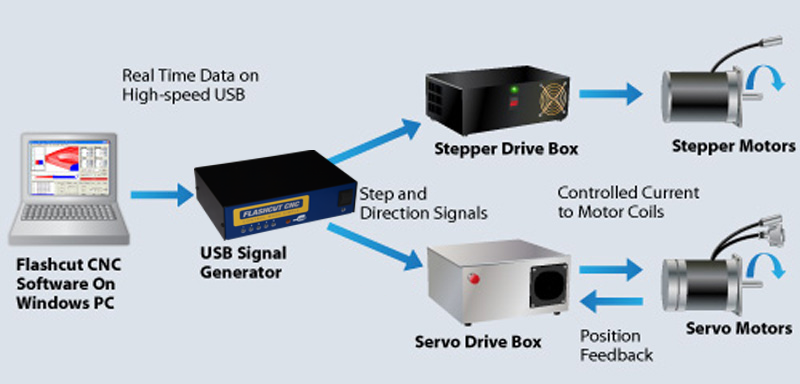 CNC USB Control Features

Components

Intuitive interface makes FlashCut CNC system user-friendly and simple to use
Comprehensive control panel puts all machine tool controls at your fingertips
Continuously updated tool path display
Look-ahead continuous contouring for fast 2D and 3D contouring
Full 5 axis interpolation
Up to 100,000 steps per second per axis
Reliable, high-performance electronics
No cards to install, can run from a laptop
Imports any 2D CAD DXF file for immediate machining without CAM
CAM Software available for importing complex 3D models
Uses industry standard G-Code, compatible with any CAM program
Provides precision-timed Step and Direction signals to drive any Stepper or Digital
Servo motor driver
8 digital outputs with optically isolated TTL signals (32 with I/O expansion)
8 digital inputs for limit/home switches or general use (32 with I/O expansion)
Exceptional technical support – Exceptional value

FlashCut CNC Software (with CD and software manual)
USB Signal Generator
USB Cable
9V Switching Power Supply (100-240VAC Input)
Free Live Technical Support
Models
Part Number
Part Name
Description
Image
Signal Generator with 5 axes of interpolated motor control, 8 digital inputs and outputs...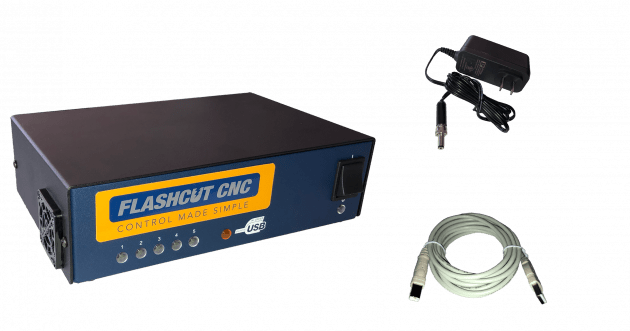 Signal Generator Board Only with 5 axes of interpolated motor control, 8 digital inputs a...